Maintaining Your Storage Container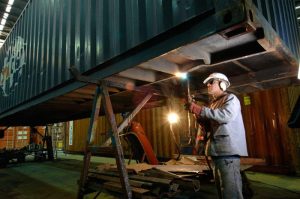 One of the perks of owning a shipping container is the low maintenance needed to keep them in top form.  By design all containers are built from sturdy steel and treated with marine grade paint.  As of late the paint has also improved to be safer for the environment and less vulnerable to the elements.  After prolonged use and daily exposure to the elements you will want to inspect your intermodal container periodically to make sure the hinges work properly, doors completely close, the inside is wind and water tight and that no rust has formed anywhere in the paint.  If any of the issues mentioned occur the best course of action is to make the needed fixes as soon as possible to prevent the problem from spreading.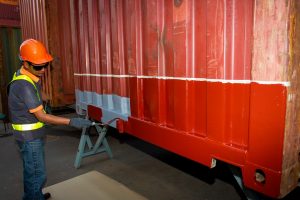 Although most problems begin gradually a good inspection will ensure the conex container will be free of repairs.  When looking at the roof of your shipping container what you want to lookout for is water collecting on the top.  Any water that is sitting will cause problems to the paint and rust may develop.  If there are any chips or dents on the roof it can be a reason for the water collecting.  For the moving parts like the doors you want to make sure they are dust free and well lubricated.  When checking inside you will also want to replace any floorboards that show signs of damage and if available cover them with water-resistant paint to avoid damaged wood in the future.  With these easy tips you can rest assure you are protecting your investment and helping it maintain its value.


Are you interested in buying a new or used shipping container at the lowest possible price along with the best delivery terms available? Shipped.com saves you real time and money, enabling you to see instant pricing, including delivery and checkout safely all online!  See Container Deals Now…