The Largest Shipping Container Architecture Project in the World
Who is behind the largest shipping container architecture project in the world ?
Not much has been reported on what claims to be the largest shipping container architecture project to date.  One of the reasons might be because it is not located in the United States but in the port city of Marseille in France.  Another reason could be, the people behind the largest shipping container architecture project, the Chinese.
Chinese have made their footprint around the world. Since they have been investing in several countries, they now have their eyes set on Europe. Particularly, on Marseille. As the city is located by the seaside, it is an important shipping route in the Mediterranean Sea; and the new Silk Road between China and Europe.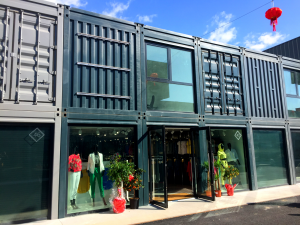 Shipping Containers in Marseille.
Shipping containers are no strangers to Marseille as thousands of intermodal shipping containers pass through the city every week.  In fact, hundreds of intermodal shipping containers were used for this project dubbed MIF68, short for "Marseille International Fashion Center". 
It is the world's largest container architectural conversion ever created. It is now a huge business to business retail park for textile professionals. Though details on how many shipping containers were used have not been released, the photos can give you and idea of the immense size of the center. 
You will see customised shipping containers of all sizes with beautiful finishes, nicely done electrical installations, and all the comfort of a normal retail store nested inside shipping containers.  As the success of this project shows, using shipping containers for a project does not have to end up looking like a container yard but can actually be an elegant place to do business.


Are you interested in buying a new or used shipping container? We offer you the lowest possible price along with the best delivery terms. Shipped.com saves you real time and money, enabling you to see instant pricing, including delivery and safe checkout all online!  See Container Deals Now…