Moving To A New Home With A Shipping Container

Moving to a new home is not only a stressful experience, it can also be very expensive. Now there's a cheaper and more convenient way to do it with the use of a shipping container!
When using traditional movers you have to put your trust into a moving company to send honest and trustworthy people into your home and you also have these people handling and packing all of your personal belongings. This is an awkward process which often ends up feeling like a violation of your privacy. The movers are often in a rush to get the job done as quickly as possible, so careful packing is not their main concern and your things usually end up damaged.
Your alternative is to buy your own shipping container, take the time to carefully load it yourself, then have it transported to your new home where you can unload it at your own pace. Shipping containers are water tight and extremely durable, so you don't have to worry about your belongings being damaged along the way. We've put together a list of helpful tips for you to consider when buying a shipping container to use for moving to a new home.
Purchasing your container: First you need to consider how much furniture you have to move. For the average 2 to 3 bedroom home a 20ft shipping container should give you enough space. For a 4 bedroom home you'll need at least a standard 40ft container, but a 40ft high cube would be the better choice. If you have a really large home with a lot of furniture you might consider a 45ft shipping container, but it would be a good idea to check our shipping containers for sale to see if a 45 foot is available in your area.
Choosing a container grade: New one trip containers are a great choice for moving because they're new, clean, odourless, dent free and they will have easy opening doors. Buying a new container will of course, depend on your budget though. For the latest prices in your state please enter your zip-code here. Less expensive, used containers are available in cargo worthy (CWO) grade as well as wind and water tight (WWT) grades. If you're moving to a new home outside of the United States you will need to purchase either a New or CWO grade container because you need a valid CSC plate, so they can be transported by cargo ship. Note, we don't recommend AS-IS containers and we don't offer them for sale.
Container delivery: You'll need to get your container off of the delivery truck and onto your driveway. Containers purchased from Shipped.com come on a truck with a special trailer called a Landoll. This type of trailer has a tilt-bed which allows the container to be safely lowered down to the ground.  Delivery can also be done using a flat bed or chassis trailer by using a crane or forklift for unloading the container. With the use of a Landoll trailer the driver is able to tilt the bed and the container slides right off. When placing the container on your driveway it's a good idea to place some wooden blocks or pavers under the container to minimize damage to the surface the container will rest on. If you live in an apartment or don't have access to a driveway and you plan to load the container in the street you may need a permit from your local city government.
Moving your container: When the container is loaded you can have it moved again with a landoll. You'll need to estimate the weight you've loaded into the container so that a suitable truck can be used. Whether you're moving your container to the next town or half way across the world it's easy to obtain pricing for moving a standard shipping container. Since the size is standardised the pricing is competitive and you'll have no trouble finding someone to move it for you. We can assist you if you need our help.
Security seals: For peace of mind you might consider using a set of uniquely coded security bolt seals on your container doors. These can be purchased for as little as $3 a set and once applied the seals have to be cut off, so they cannot be reused or opened and then closed again. Use of bolt seals is a good way of knowing your container hasn't been opened since you sealed it shut. They also offer a distinct advantage over a regular moving van where you are trusting the security of your personal belongings with the movers.
Unloading on arrival: Since you own the container there's no rush to unload it! Take your time carefully unpacking your belongings and enjoy the peace of mind of knowing that your container seals have prevented anyone from peeking inside your container while it was in transit.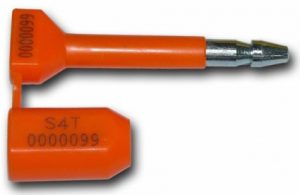 Another advantage of buying your own container for the moving process is that you can resell it again at the destination for a similar amount that you paid for it. Shipping containers are in high demand so you'll have no trouble finding a buyer. Alternatively you could choose to keep the container and use it for home storage, a workshop, garage addition,  a living space or a play room for the kids!
Shipping contianers are known by a few different terms such as intermodal container, conex container, cargo container, sea container, iso container and storage container. You'll find it handy to become familiar with these terms together with the various sizes used in the industry. Other container components to familiarize yourself with are corner castings, locking bars/pins, air vents, door seals, cam retainers and forklift pockets.
When it comes time for you to move to a new home, or even move to a new business address consider using a shipping container instead of traditional movers. You'll be glad you did!

Are you interested in buying a new or used shipping container at the lowest possible price along with the best delivery terms available? The Shipped.com Marketplace saves you real time and money, enabling you to find the perfect deal. Click here to view instant pricing and purchase a container online!  See details…