Renting A Self-Storage Unit VS Buying A Shipping Container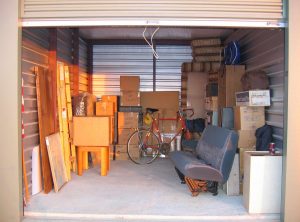 There's many different circumstances in life where you may find yourself in need of extra storage space. Renting a self-storage unit seems like the best solution, but is there more cost effective alternative available?
The most common use of self-storage is keeping household furniture protected while waiting to move into a new home. Other reasons could be storage of sentimental items after receiving an inheritance, the need for storage during home renovation or after storm damage, storing collectables or antiques that will increase in value over time and storage of personal items after relationship breakdown or divorce.
So when it comes to buying or renting storage space what is the best value for money option? First let's look at the pros and cons of renting a self-storage unit at a storage facility:
Pros:
Set and forget easy monthly payments via credit card or direct bank account debiting.
Relatively secure, modern facilities that are usually set up with keycard access and CCTV.
Various sizes available to suit your needs.
Suitable for people renting houses or living a transient lifestyle.
Cons:
Access to your unit is difficult at times, particularly on weekends when others are trying to access their unit.
You may need to carry or move items with a dolly if there's no drive-up access.
Set up (admin fees), contracts and penalty fees for renting less than a whole month.
Transporting goods between your home and the storage facility and traveling back there access them.
Rental of a moving van or truck and the heavy lifting involved with moving your belongings.
Limited hours of access (if the facility is not 24 hour).
Security issues and insurance. Are your valuables covered in the event of a fire or theft?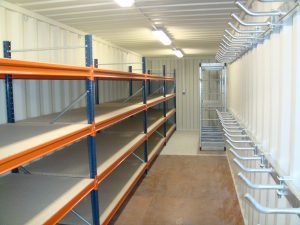 One of the best alternatives to renting a self storage unit is buying a shipping container in new or used condition. A shipping container is basically just a large, secure, water tight metal box. They're made from extremely tough and durable corrosion resistant Corten steel, which is designed for transport on the high seas, so in a home storage environment they'll last decades with little or no maintenance. You'll need to plan the delivery a little in advance by preparing the surface you intend to place it on. Concrete and asphalt are excellent choices, but pavers, railroad ties and even gravel are also suitable. Now let's consider the pros and cons of buying a shipping container for self storage:
Pros:
On demand storage at your home with 24 hour access (no driving to the storage facility).
A one time payment with zero ongoing monthly fees.
A shipping container is an investment – it can be resold into the used container market at any time.
You can install your own lighting, shelving, ventilation and even climate control.
Peace of mind – knowing your valuables are nearby and protected.
No additional insurance required (covered by home owners)
Cons:
Upfront investment is required (but rent to own is also available from Shipped.com)
The footprint: You will need land to place the container on and access for manoeuvring a truck during delivery.
Used shipping containers are not so aesthetically pleasing, but they can be easily painted or camouflaged.
Both options give you extra storage space where you can store and protect your private belongings and valuables for an unlimited period of time, but how does the cost compare?
Prices do vary for both, depending on your location. A used wind and water tight grade 40ft shipping container typically runs somewhere between $2,000 – $3,000 including delivery. That would give you roughly 320 square feet of home storage space. Most self-storage unit facilities offer units that are only 200 square feet as their maximum size and they run between $350-$450 a month. Additionally, if you buy a high cube container you get 9′ 6″ of storage height, where a storage unit is typically only 8ft tall.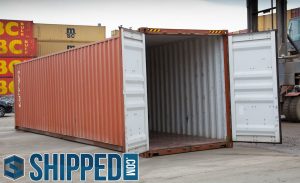 The bottom line is that renting a storage unit might be convenient, but when compared to purchasing a shipping container the financial comparison is a no brainer. If you have the space for a shipping container, buy one! If you don't have the space for a shipping container you had better make some room because for just six months of rental payments to a storage facility you could own a used 40ft container!


Are you interested in buying a new or used shipping container at the lowest possible price along with the best delivery terms available? Shipped.com saves you real time and money, enabling you to see instant pricing, including delivery and checkout safely all online!  See Shipping Container Prices Now…