Conex Box Shipping Containers Transformed to Mobile Police Stations
With many police forces pushed to make drastic budget cuts, projects with shipping containers have become favorable for their interior space and low operating cost. In 2011 the city of Hanover, Germany was in a difficult spot when it had to replace their security van in front of the Turkish embassy. The challenge was finding something that was movable and compact for their precinct. Once the decision was made to work with a Conex box it was the job of architects to design an aesthetically pleasing unit that offered good visibility and still remained functional for the day-to-day operations. The final structure design had floor to ceiling windows installed with unobstructed views of the embassy and laminated wood panels for a decorative look. The success of the unit was due to its strong steel structure, mobility and ability to customize to the client's need, a great display of the many uses for Conex shipping container boxes.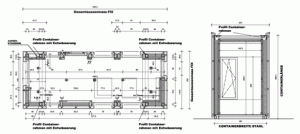 Engineers and architects in South Africa have also taken advantage of the growing trend and spotted a gap in the market in converting containers into temporary and permanent police facilities. Some of the projects they've worked on have turned boxes into control rooms, crime scene investigation posts and many times stations in remote rural areas. These boxes have turned into fully customizable units with optional bathrooms, hygienic vinyl flooring, electrical systems, thermal insulation and air conditioning to be used in any weather. The company, Structure Now, is building with 6 or 12 meter units in length and also customizing for facilities that are not manned 24/7 by installing CCTV systems, alarms and heavy duty locks.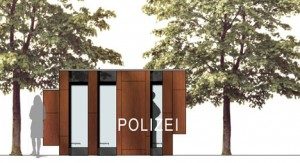 For police forces there are many requirements for any equipment or facilities they use, the great advantage the containers bring has been their mobility and easy transport. An emergency control center or base at a sporting event can easily be placed or removed and best of all, used again. Intermodal shipping containers don't need to be positioned on concrete bases and are easily leveled if the area is flat. The name "intermodal" means they can be easily transported and transferred between ships, trains and trucks. For that reason they have been repurposed and so well accepted for mobile police units looking to save money and not loose any ground against crime.


Are you interested in buying a new or used shipping container at the lowest possible price along with the best delivery terms available? Shipped.com saves you real time and money, enabling you to see instant pricing, including delivery and checkout safely all online!  See Container Deals Now…