Approved For Transport Under Customs Seal – CSC Safety Approval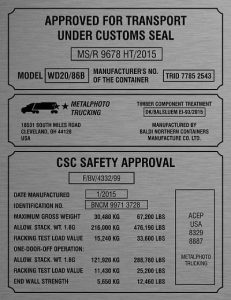 Convention for Safe Containers or CSC as the plates are more commonly known are for intermodal shipping containers and used to improve the entire supply chain.  The Plates incorporates design requirements, minimum functionality requirements, and measurements of capacity, weight, and resistance to the forces containers are subjected to whenever they are in transit.  The aim of the plates is to standardize safety requirements worldwide and create safer working conditions around each conex container.  CSC is an international agreement dating to 1972 and works to set an international standard for design and safety so that each container can work globally under one set of worldwide regulations.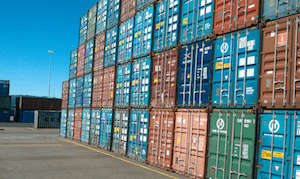 So how do the CSC plates work?  The first safety inspection is made soon after the shipping container is built and must occur no later than 5yrs after production.  The plates contain a lot of important safety information for workers and when they see the plates they can be assured the conex containers comply with many safety standards.  Re-examination happens once every 30 months after the first 5yrs and that also guarantees the containers have been inspected and are safe to use.  For manufacturers producing intermodal shipping containers, the plates must be fasten to each container they produce and are usually bolted to the exterior of the container's left door.  The information on the CSC plates must also be either in French or English showing the following information.
The words "CSC SAFETY APPROVAL"
The country of approval and approval reference
The month and year of manufacture
The manufacturer's ID number of the container or the number allotted by the administration if the existing container number is unknown
The maximum gross weight in kilograms and pounds
The allowable stacking weight for 1.8 g in kilograms and pounds
The racking test load value


Are you interested in buying a new or used shipping container at the lowest possible price along with the best delivery terms available? Shipped.com saves you real time and money, enabling you to see instant pricing, including delivery and checkout safely all online!  See Container Deals Now…