Shipping Containers in the Olympics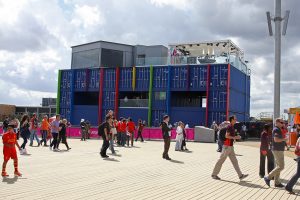 Queen Elizabeth Olympic Park is a sporting complex situated in East London. The park was built for the 2012 Summer Olympics and the Paralympics. BBC, the British Broadcasting Corporation, was at the forefront of Olympic coverage during this time and was looking for the best vantage point to broadcast from the onsite studio. After serious consideration and research, they discovered that shipping containers offered exactly what they needed. Additionally, conex boxes are a more viable financial option that other alternatives. Using intermodal shipping containers was also more environmentally friendly and remodeling the containers was a relatively simple task.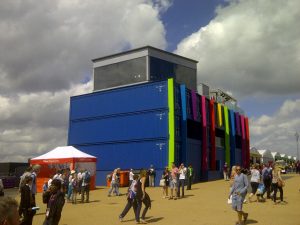 Converting a shipping container into a customized studio for BBC is much easier than building something from scratch; it relieves a lot of stress from time sensitive, labor intensive projects. The process is also much faster because the container already has a strong foundation and requires simple modifications to transform it into a studio. In the end, there were eighteen shipping containers used for the Olympic Park project that were stacked and secured to give the necessary height for the studio to have the perfect vantage point they were looking for. Due to the success of the construction, BBC also decided to do an identical pop-up studio with shipping containers for their breakfast team that covered the games live and transmitted the Olympics. Once again, conex boxes displaying their versatility and worth.


Are you interested in buying a new or used shipping container at the lowest possible price along with the best delivery terms available? Shipped.com saves you real time and money, enabling you to see instant pricing, including delivery and checkout safely all online! See Container Deals Now…