The DIY Shipping Container Swimming Pool
Converting a Shipping Container into a swimming pool seems like a cheap way of keeping cool this summer, but how easy is it to do it yourself?
An Australian company 'Shipping Container Pools' based on the Sunshine Coast in sunny Queensland has been creating beautiful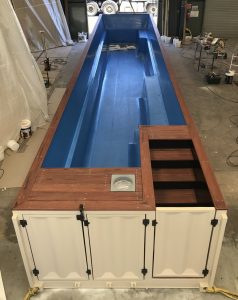 shipping container pools for the past four years. Recently we spoke to Nigel Butcher, the company Sales Manager to get some more information about their design and manufacturing process.
The container pools are sold in two sizes, 20FT and 40FT and by offering only one mould shape the company are able to keep manufacturing costs down. The width is the standard 8 feet, but you'll notice that the height has been cut down from a standard container height of 8'6″. The reason the pools are designed this way is simply cost savings. The company are using brand new one trip containers and then cutting them in half to make two four feet deep pools from one single container.
As some of you might know the strength of an intermodal shipping container comes from the square tube frame structure, so you might be thinking: "does cutting that frame in half then filling it with 120,000 lbs of water present structural issues?" Well the short answer would be yes, but this particular design uses a free standing fiberglass mould that is placed inside the container. The free standing mould has the strength to hold the weight of the water, so it could be placed onto the ground and be filled with water without the support of the container to hold it in place. In this case the container just acts as a protective shell.
The fiberglass mould pool design was developed thirty years ago and has been used by the Australian company most commonly for in ground swimming pool applications. The addition of the shipping container exterior is not only aesthetically pleasing for above ground applications, it also offers the flexibility of having a transportable, fully enclosed unit which offers two distinct benefits over a traditional pool: a) The site preparation is minimal, so there's no need to excavate the ground and pay someone to take away the dirt. b) The product is not a permanent fixture in a home, so it can be easily transported to a new property if needed, which is a feature that would be particularly appealing to renters.
The current pricing on the 20ft shipping container pool is around USD15,000 and USD23,000 for the 40ft, but those prices don't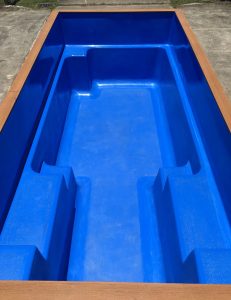 include shipping. The cost of shipping a 20ft container from Australia to the United States is roughly $5k and around $8k for a 40ft. At those prices a DIY container pool looks much more appealing.
For most of us building a fiberglass swimming pool mould is beyond our skill level, so how about just buying a shipping container, cutting the roof off and filling it with water? Although containers are sold as 'wind and water tight' that actually refers to the condition of the exterior steel panels and rubber door seals. They're designed to stop water getting into the container, not to hold a body of water inside them. Before filling your container with water you might need to consider strengthening the side walls to stop them from bulging.
So how do you go about making a watertight barrier to hold the body of water that will be your swimming pool? One idea would be to weld steel sheeting into the container. If you choose this option you'll need to rust proof the panels and also be sure to use a certified welder, or at least someone with considerable experience because you need the welds to not only be strong, but also water tight. Another option would be to use concrete on the floor and walls. Steel rebar mesh can be attached to the walls and used together with timber formwork to hold the concrete in place, then tiles added later for a more decorate finish.
Whichever method you chose to build your container pool you need to give some thought to the plumbin
g aspects such as drainage, water circulation and filtration. Water filtration units vary in size and price. A smaller pump will need to run for a longer amount of time each day, consuming more energy, so choose a suitably sized unit. Solar powered pumps are a great way of keeping running costs to a minimum. The three water filtration choices currently available are traditional chlorine, salt water and the newer style is a mineral pool which uses a mix of Magnesium and Potassium Chloride.
If you have a limited budget you might consider buying a used wind and water tight grade shipping container, rather than a new one. A used container will still be structurally sound, but it's going to have some dents and scratches, so you're going to need to camouflage the exterior, or at the very least paint it.
For colder climates why not consider a shipping container to build a sauna, steam room, hot tub or jacuzzi? New and used intermodal shipping containers offer amazing value and versatility for a broad range or projects.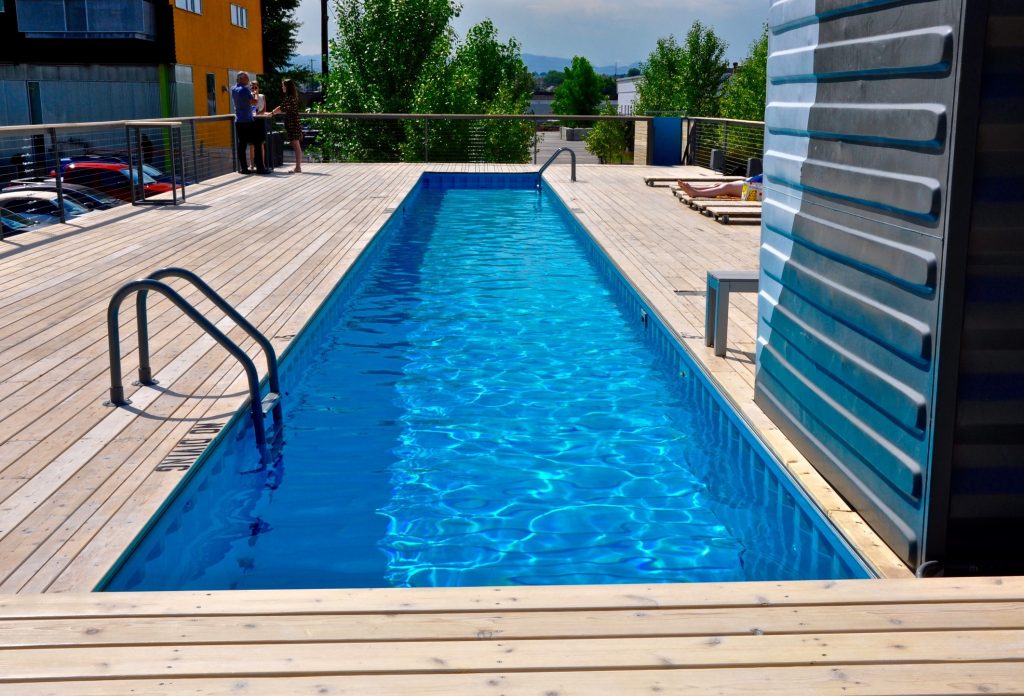 Are you interested in buying a new or used shipping container at the lowest possible price along with the best delivery terms available? Shipped.com saves you real time and money, enabling you to see instant pricing, including delivery and checkout safely all online!  See Container Deals Now…