Five Reasons to Choose a Shipping Container Hunting Cabin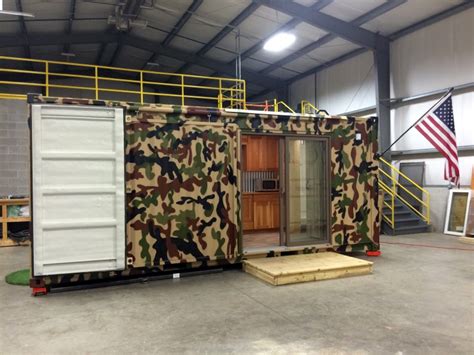 Hunting and fishing in the great outdoors are some of the favourite pastimes of Americans. Unfortunately though for many of us getting away for a break doesn't happen as often as we'd like. This usually means leaving a cabin unused for many months at a time, which in turn creates issues security and building maintenance.
Whether your recreation of choice is fly fishing in tranquil stream, taking a boat out on the lake, grabbing a rifle for some duck, deer or pig hunting or just a nice quiet getaway you're need somewhere secure, warm and dry to relax. You're also going to need somewhere to store your guns, fishing gear, motorcycles, ATVs and camping gear safely and securely until the following season.
When building a cabin you have several options, so what's the advantage of a shipping container hunting cabin? There's two distinct advantages when using a shipping container, the first is that it's ready to use immediately. You can have it delivered to site and store gear, or sleep inside the same night. Compare that to building a log cabin, which would take several months at least.
The second advantage and possibly most attractive feature is security. Shipping containers are made from 12 guage Corten steel. New units come standard with a lock box fitted, so they're easy to secure
The third is durability
The forth is fabrication
The fifth is cost
Sure it's fun to camp outdoors on the back of the Hilux before heading out for some shooting, but it's even better if you've got your very own custom built cabin with its own bunk beds, kitchen, bathroom and storage facilities.
Here are just a few ideas of how you can transform humble shipping containers into your very own outdoor man cave to support your hunting and fishing habits.
3 Great Ways For Hunters & Fishermen to Use Shipping Containers:
1. Turn a 10 Foot Cabin into a Duck Shooting Hut
Duck hunting season comes around once a year – when the weather is often at it's worst. If you are serious about your duck shooting you'll want to have a permanent hut set up on your hunting grounds (the Kiwis across the ditch refer to these as "Mai Mais"). Here you can safely shelter in inclement weather, stay camouflaged and hidden from your prey, keep the dogs happy and dry and camp out. While it's perfectly acceptable to build a temporary shelter out of plywood or similar, a modified shipping container is easily superior. Your shelter should:
Be built in a way that you can easily get in and out of it with firearms safely
Provide shelter for yourself, your mates and your hunting dogs
Have enough room that you can shoot safely
Have a access door that your hunting dog can easily exit to retrieve the ducks for you
Be well camouflaged so the ducks don't spot you from above
Take a 10 foot square shipping container, add an access door to the side, front windows for shooting, bench seating and you are good to go. Of course, the sky is the limit when it comes to modifying your duck shooting hut. Extend your shooting hours by adding some rechargeable batteries for off grid power and some lighting, or secure your firearms with a build in secure gun storage area.
Once your hut is built, it's simple to transport it on the back of a truck to your site. Lift it with a hi-ab into place, and secure to its temporary foundations using heavy duty wooden or concrete sleepers. Paint the container according to your natural surroundings, first by selecting a base colour and then using local foliage and spray paint to camouflage based on the surrounding plant life. Add the creature comforts you need for a day out shooting, such as an esky for keeping food and drinks cold and a gas BBQ and lamp for keeping warm and cooking.
Your shipping container has been transformed into the ultimate blokes duck hunting shelter.
2. Create a Hunting Camp
There are plenty of options for those who want to create a longer term outdoorsman's camp. 20 Foot and 40 Foot shipping containers make the ideal construction base for these encampments due to their size, ease of transport and durability. Building your shipping container camp is similar to any other accommodation built from modified shipping containers, with the exception that it's going to be more rugged, manly and have well – more cool things that they wife won't allow at home.
When planning your shipping container hunting camp the sky is the limit, you'll start off with all the standard things like space for bunk beds, a kitchenette, a bathroom and of course access doors and windows. Whether or not you add electricity will depend on whether your container is on grid or off grid, or if you have access to electricity. If you live in an area where there's cold weather, a log burning fire will give you heating, while cooking facilities and hot water can be provided using portable LPG cylinders rigged to gas cookers and heating.
3. Store Your Fishing Gear Safely In a Shipping Container
Of course the uses of shipping containers outdoors aren't just limited to hunters, there are plenty of uses for anglers as well. You can built yourself a fishing camp near your favourite lake or stream. Why get a camper when you can custom build your modified shipping container to be the perfect anglers retreat, complete with all the waterproof space you need to take those wet waders off before relaxing with a cool beer or a warm cup of tea after a long day of fishing.
For those who have smaller boats, a 40 foot container can even be modified as a boat storage unit, allowing you to safely and securely store your expensive marine and fishing equipment when not in use.
Start The Hunting & Fishing Season Right – Get Yourself a Shipping Container Now!
Now's the time to start planning the ultimate blokes outdoor retreat. Contact the expert team at Gateway Container Sales & Hire now to discuss how you can custom create your own modified shipping container to your exact specifications, whether it's a simple hut, gun storage, somewhere to keep the boat or a warm place to stay after a day of hunting in the bush – we've got you covered.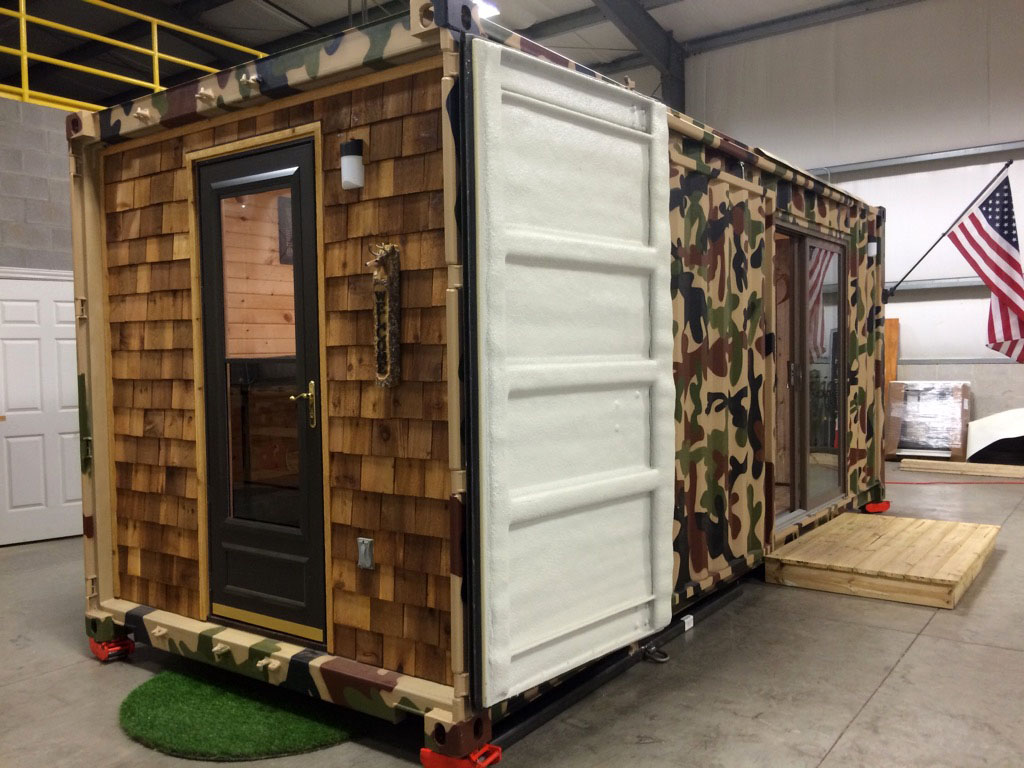 Are you interested in buying a new or used shipping container at the lowest possible price along with the best delivery terms available? Shipped.com saves you real time and money, enabling you to see instant pricing, including delivery and checkout safely all online! See all the Shipped.com Conex Container Deals near me…