How to treat and repaint a rusty shipping container

Shipping container RUST! Is it really a problem I need to be concerned about? No, not really…
Shipping containers are made from corrosion resistant COR-TEN steel which is also commonly known as Weathering Steel. This special group of steel alloys were developed to eliminate the need for painting. The alloy was designed to get rusty on the surface but stop corroding after that.
Rust on a shipping container is NORMAL and actually a very common site. Rust only presents a problem with corten steel when it's continually exposed to salt water, such as an underwater environment or on a sea wall. Shipping containers are rusty by design, rust is normal, harmless and helps to form a protective barrier.
Weathering steel, which relates to the chemical composition of the material, allows an increased resistance to atmospheric corrosion compared to other steels. This is because the steel forms a protective layer on its surface under the influence of the weather. Standard mild steel by comparison needs to be protected from the elements because when rust takes hold it spreads like a cancer and penetrates deep into the structure.
How to treat rust on your shipping container: Now that you know shipping containers are rusty by design you might feel a little at ease, but you still want your container to be aesthetically pleasing, so how do you go about treating and removing the rust in preparation for repainting it?
If you're going to repaint the entire container you might consider renting a sand or grit blasting machine. These machines use high pressure air to blast small granules at the surface, stripping away paint, primer and rust. The process is fast, but the downside is the mess created. You also need to protect yourself from being blasted with thick protective clothing.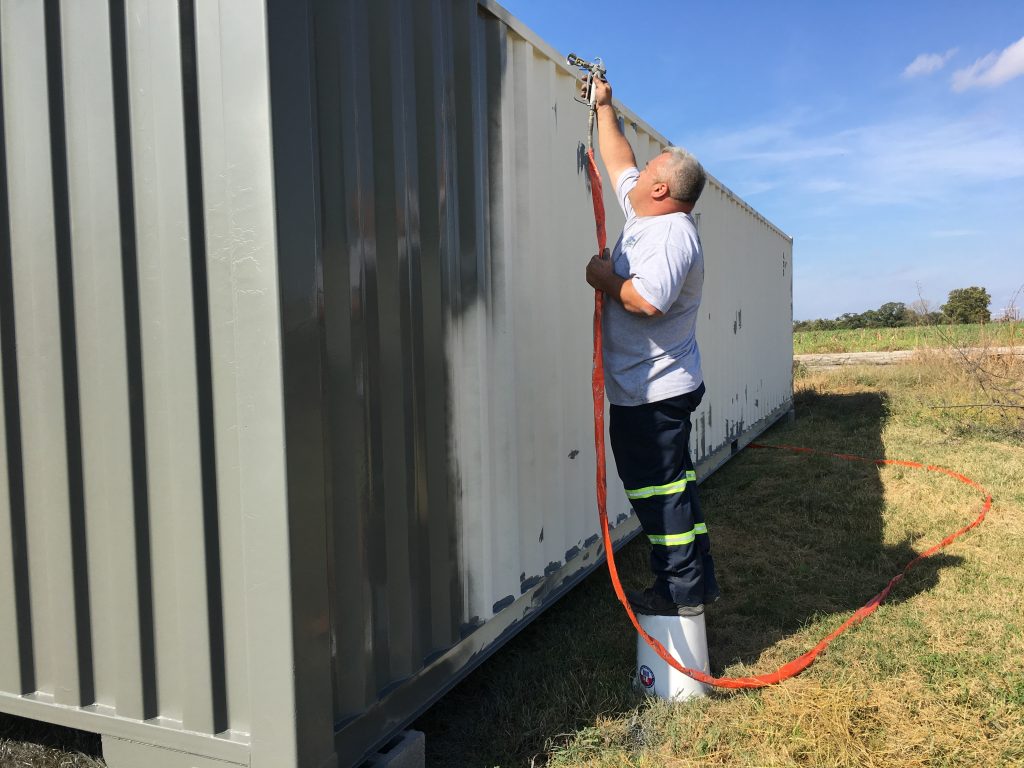 Alternatively a pneumatic orbital sander with a coarse grade disc will effectively remove paint and rust from your shipping container, as will a wire brush or a wire cup brush used together with an electric grinder. After removing any loose material you should clean the entire container with solvent or acid, then paint bare metal surfaces with a primer. This will ensure adhesion of the top coat paint.
Spray painting is the easiest and fastest method of covering a large surface area. There's two types of units that can be utilised. The first is the traditional type hand held spray gun, the second is a pressure pot type. Both devices are capable of producing a quality finish on your shipping container and both require the use of an air compressor. The pressure pot type however uses less air and has less paint wastage.
The preferred paint type to use is an industrial enamel. An enamel paint has a natural shine when applied, it sticks to almost any surface and it's durable. Ideally you should apply two coats to ensure proper opaque coverage. Be sure to use respiratory protection when spray painting your shipping container because airborne paint particles are harmful to your lungs.
If you would like to read more about how to plan for your shipping container delivery you can view our container delivery guidelines by clicking here: CONTAINER DELIVERY GUIDELINES


Are you interested in buying a new or used shipping container at the lowest possible price along with the best delivery terms available? Shipped.com saves you real time and money, enabling you to see instant pricing, including delivery and checkout safely all online!  See Container Deals Now…