New Project Opens Utilising Used Shipping Containers in Phoenix, AZ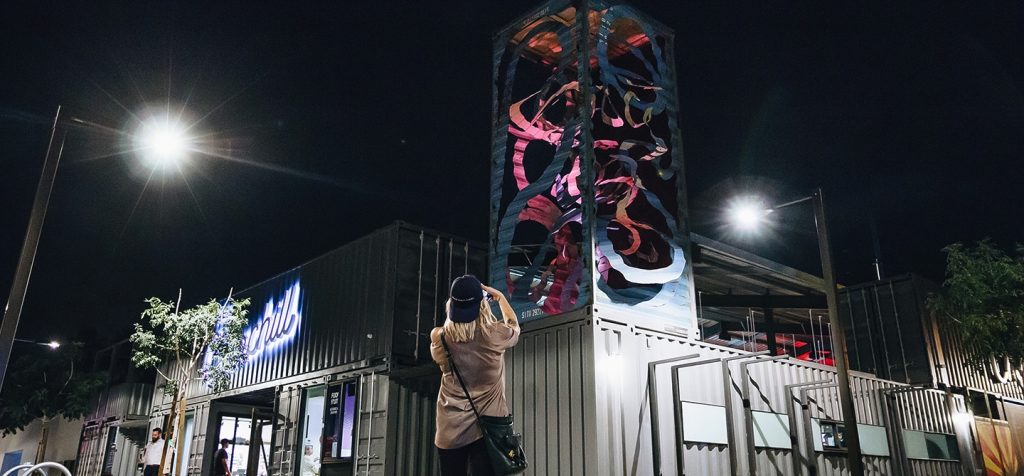 September 2018 has seen the opening of a unique community themed food space in downtown Phoenix, AZ utilising used shipping containers.
One of the project founders, Kell Duncan set out to create more than just a food hall. The Churchill complex located at 901 N 1st St was purpose built as a community gathering place for the citizens of Phoenix.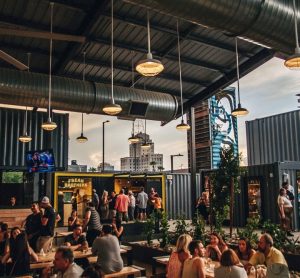 The dual purpose restaurant and shopping project is housed in a 14,000 square foot creation which utilises twenty repurposed shipping containers of various sizes. In total, there are six bars and restaurants and four boutiques including: A regional craft brew house, a classic sandwich, wraps and salad stall, a Mexican eatery focusing on the flavours from central Mexico, healthy açai bowls (a Brazilian dish made of frozen and mashed açaí palm fruit) and smoothies from Foxy Fruit, a cocktail bar, brick and mortar Freak Brothers Pizza, a wine shop with affordable options, a boutique selling home and lifestyle wares, State Forty Eight selling local sports apparel and Cosas, a boutique carrying items made in Mexico.
The Churchill shipping container design incorporates a large central courtyard with seating for up to 300 people, giving it a unique community vibe from the moment you enter. The community aspect of the project is serious too, with tenants being required to complete four hours of community service each month as a part of their rent.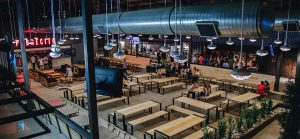 The trend of building using repurposed shipping containers has been on the rise right throughout America and the trend is also taking off in Phoenix with two apartment complexes (The Containers on Grand and The Oscar) both recently opened in central Phoenix.
Containers On Grand is an apartment complex in made out of re-purposed 40ft shipping containers. The 16 ISO shipping containers were combined and joined side by side to create eight single bedroom apartments. The architects chose to incorporate the original look and feel of the containers, rather than altering them.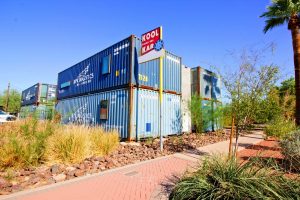 The shipping containers are stacked and joined the same as they would be on ships, by the use the cam-locks on the corner castings. The container doors remain in place, but they are welded open or shut in an alternating pattern, thus serving as the main source of natural light. The containers used are all high cube, measuring 9'6″, giving an 8ft tall living space. The wet areas of the units are house is a purpose built masonry building that connects two units. This cost saving strategy allowed tradespeople to work in familiar surroundings.
In support of the growing demand for new and used shipping containers in Phoenix, Shipped.com recently opened a shipping container depot. By appointment buyers can visit the depot and view the shipping containers for sale.
Need shipping containers for your
project in Phoenix?
Contact our sales team on 
Ph: (503) SHIPPED (503-744-7733)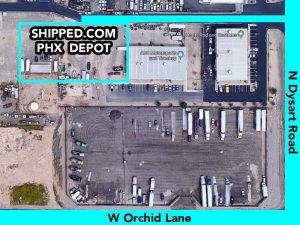 -OR- Come visit our shipping container depot in Phoenix, AZ
(by appointment):
8628 N Dysart RD, Lot B,
El Mirage, AZ 85335 USA
If you would like to read more about how to plan for your shipping container delivery you can view our container delivery guidelines by clicking here: CONTAINER DELIVERY GUIDELINES


Are you interested in buying a new or used shipping container at the lowest possible price along with the best delivery terms available? Shipped.com saves you real time and money, enabling you to see instant pricing, including delivery and checkout safely all online!  See Container Deals Now…