Commercial and Residential Shipping Container Projects
New construction with shipping containers is spreading, especially in the United States.
The use of shipping containers as a practical alternative to other building materials is becoming more prevalent in the United States and Europe in response to the rising cost of living and cost to build. A lot of this surge in the use of shipping containers in construction has been met with skepticism. Those skeptics mostly point out the lack of aesthetics, style of the living quarters, and potentially questionable load bearing capabilities that shipping containers bring to the table. On the other hand you have an increasingly available material for building suitable living and working quarters for areas that have seen a dramatic increase in the cost of living over the past 30 years. Here are some examples of successful applications of shipping containers in building projects.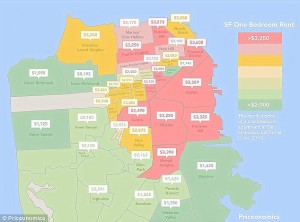 The increase in the cost of living has caused people to move further and further out into the suburbs across America. However, the urban sprawl and lack of comprehensive mass transit to keep up with these conditions have limited young urban professionals' options when it comes to places to live. As a result it seems that the use of shipping containers in high rent cities such as San Francisco is a trend that could rise dramatically in the near future. Small companies, like Containertopia are looking to capitalize on these market conditions and create living space for millennials that want to live closer to the city but can't afford the highest rents in the nation.
Aesthetics, aside from location, play another huge role in real estate. A lot of critics of the use of shipping containers contest that the looks just aren't there. In the face of using traditional materials versus shipping containers, wood, drywall, bricks, etc. will always remain supreme. The only thing is, that over time all emerging markets evolve as they mature. Talented people will find ways to use materials to create great looking projects and turn ill-perceived notions on their head. Refer to the pictures below as evidence and decide for yourself.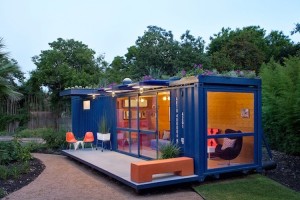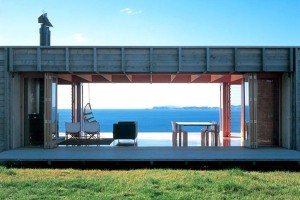 In Arizona, developer Stark James have completed a multiple unit apartment building that is the first of its kind in the Western United States. This building will feature 8 units, and one of those will be an Airbnb unit to let anyone interested try out the container units on their own. Putting the finish touches on this project will allow anyone to come try out living in a shipping container themselves as the units will be one bedroom apartments. The developer mentioned that the construction of the units are sound in that they are made from ConEx steel. A material that has better load bearing capabilities than its counterparts and at a better price.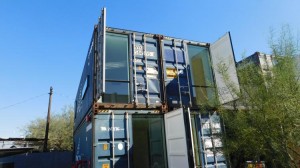 Another project in California (rendering pictured below), Steelcraft, will feature four restaurants and a satellite tasting room from the Smog City brewery. These type of restaurants have been popping up all over the United States. This latest addition will be the first in the Los Angeles area. The trend of building permanent food lots out of shipping containers should continue due to the low cost of construction from an ever increasing inventory at our nation's ports. In addition to the lower construction costs, shipping containers can still maintain familiar layouts inherent to commercial properties made from more common materials. So really nothing is lost. Only additional capital gains made which will increase more capital investment into similar projects.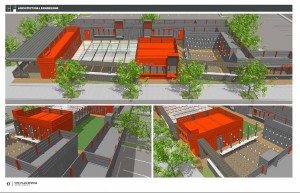 What do you think? Are the use of shipping containers in construction a passing fad to control a small fraction of the construction market? Or, will we see huge growth in the use of shipping containers for construction that will continue for the next 10, 15, or even 20 years?


Are you interested in buying a new or used shipping container at the lowest possible price along with the best delivery terms available? Shipped.com saves you real time and money, enabling you to see instant pricing, including delivery and checkout all online!  See Details…