A Game Changing Container Shopping Experience
We built Shipped.com so that you can buy a shipping container at the lowest possible price along with easy pickup or delivery. You will find no high pressure salesmen here and you won't have to wait for silly high-markup quotes either! At Shipped.com you can actually see direct pricing and our shopping cart will instantly calculate your delivery price. We actually built this shopping experience with our customers in mind, including 7 great payment choices. And your purchase is fully insured by our iron clad satisfaction guarantee. So now it's time to stop haggling with local vendors and high-markup national sellers. Welcome to the game changing Shipped.com, where you're going to love buying a container!
To start, please keep reading our buyer's guide below, then later take a look at our shipping containers for sale or our rent to own shipping containers.
---
About Shipping Containers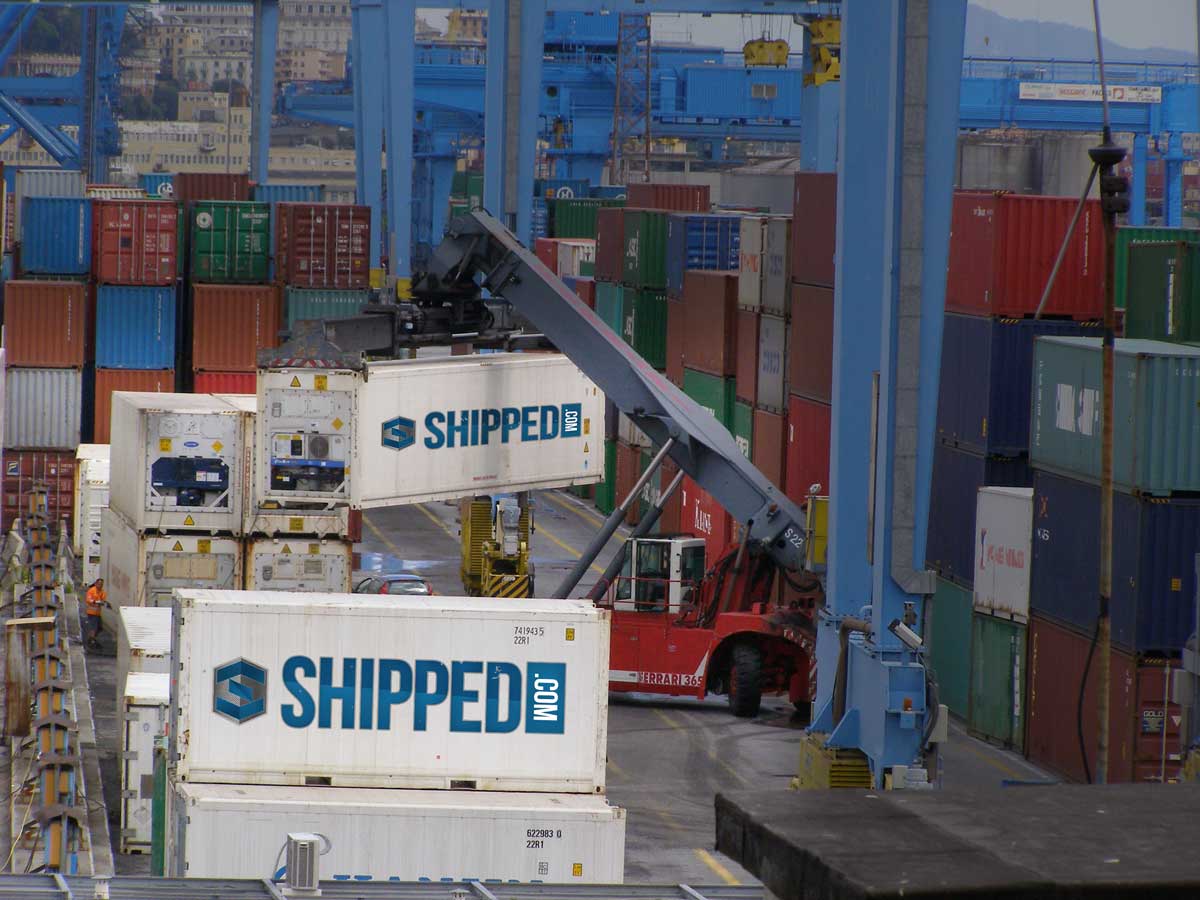 Shipping containers are made from corrugated weathering steel to be strong and weather resistant. They are easily transported, by ship, rail, road or helicopter. They can withstand everything mother nature can throw at them, including earthquakes, hurricanes and tornadoes. Standing alone, they can withstand winds of 110mph or more. With anchoring, they can easily withstand winds of 175mph or more.
Shipping containers are available in many different sizes and types. The most common type is a dry freight container that has a set of cargo doors on one end. These dry storage containers, or "dry vans" represent the majority, with millions in circulation around the globe. The most common of these are the 20' and 40' containers. Rounding out the rest are insulated, refrigerated, tanktainers (for liquids) and modified containers.
Generally speaking, containers were originally 8-foot (2.44 m) wide by 8-foot (2.44 m) high, and either a nominal 20-foot (6.1 m) or 40-foot (12.19 m) long. At each of the eight corners are corner-castings with twist-lock openings fasteners. These corner castings are useful for lifting by crane or to lock them together when stacking on a ship, up to eight units high. The standard height now is now 8 ft 6 in (2.59 m). Taller units have been introduced, including "hi-cube" or "high-cube" units at 9 feet 6 inches (2.90 m). 45 foot high-cube units are also available in select markets world wide, but these are less common. The United States and Canada also use longer units at 48 ft (14.63 m) and 53 ft (16.15 m) but overall, these are quite rare and expensive.
Along with size and spec, each container is graded and this grade is also an important factor to consider when purchasing your shipping container. But before anything else, you should know exactly what you want to use your container for.
---
Shipping Container Uses
Although the primary use of shipping containers is for transoceanic transport (primarily the shipping of goods across the ocean), there are many other aftermarket uses, such as:
Industrial: Storage Containers are rugged, and are the perfect solution for industrial storage. Shipping containers offer wind and water-tight storage for your products, raw materials, additional inventory or waste holding. If you are remodeling, moving or just need more space, a shipping container from Shipped.com is the perfect solution. Industrial uses include:
Excess Inventory Control
Refuse & Waste Storage
Workplace Expansion
Seasonal Storage
Equipment/Tools Storage
Secure Storage
Residential: Shipping Containers are the perfect solution for on-site residential storage. They offer wind and water-tight storage for your valuables. If you are remodeling, moving or just need more space, a shipping container from Shipped.com is the perfect solution. Purchase a shipping container and use as a permanent storage solution for use at your home. Uses include:

As an addition to the home
A Ready-to-go workshop
Additional garage storage
Seasonal Storage
As an underground bunker
Pre/Post Move Storage
Commercial / Retail: Storage Containers are the perfect solution for commercial and retail outlets in need of extra storage or work space. Our weatherproof secure shipping containers are wind and watertight and are perfect for remodeling, moving or if you need need more space for inventory and seasonal products. Uses include: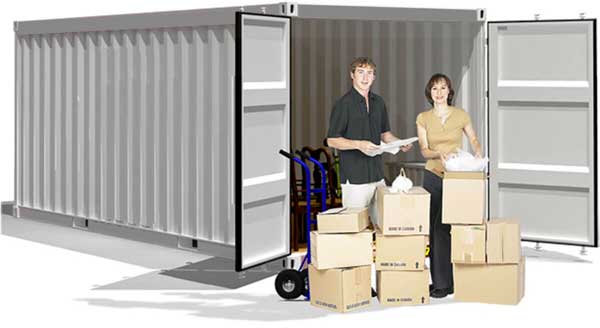 Supplies/Equipment
Seasonal Inventory
Excess Inventory
Seasonal Storage
Showroom Space
Instant add-on office space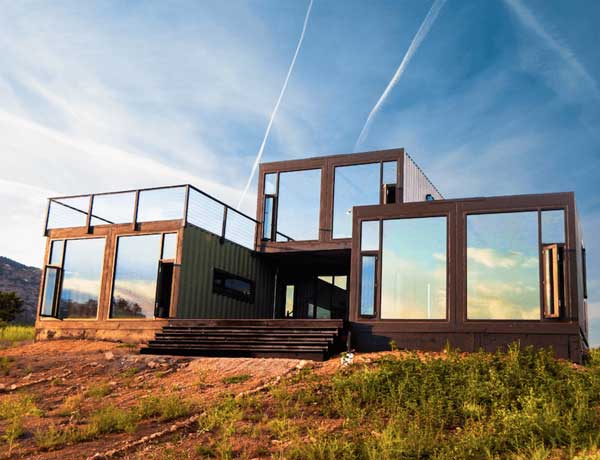 Shipping Container Homes and Offices: Shipping Containers can be modified to create not only homes and offices, but just about any structure you can imagine. From offshore oil rig safety rooms to hunting cabins. As they are durable, watertight, mobile and affordable, shipping containers are very popular in eco-friendly and urban spaces. To get an idea of the possibilities available when it comes to creating a home from a shipping container, just check out these shipping container homes on our blog. In addition, modified shipping containers can be repurposed into low-cost homeless shelters or emergency housing. Sophisticated buyers can even create luxury homes from repurposed containers!
---
Shipping Container Grades / Ratings
---
Sizes & Specifications
Shipping containers are available in many different sizes and configurations:
---
Capacity
Once you've decided on why you need a storage container, you'll need to give some thought to what size container will be right for your needs. In thinking about size, there are two considerations; the internal volume (in square feet or meters), and the internal max payload weight (in pounds or kilograms). It's also important that just because the container can fit a certain size payload, it doesn't mean that that the container can support the weight. So, we've taken the time to give some examples -- using common shipping container "uses" -- to give you a better idea of what size container is right for your needs using the 4 most common sizes for our examples.. And as a general rule, it's better to purchase a container that might be too big rather than too small. Also keep in mind that these are not weights for shipping, but rather static use. And just to give you an idea of how big a container is, the contents of a typical 3-bedroom house can fit into a 20' container. Easily!
Here's a typical scenario.
You have a house with a "fair" amount of furniture. You have a living room set (approximately 300 cubic feet), dining room set (150 cubic feet), a bedroom set (200 cubic feet), misc stored goods (100 cubic feet). All of this equals approximately 750 cubic feet.
Then you add to that some personal effects: 1 loveseat ( 40 cubic feet), 1 sofa (60 cubic feet), 1 coffee table (15 cubic feet), 2 side-tables (20 cubic feet), 1 china cabinet (60 cubic feet), 1 easy chair (35 cubic feet), 1 long wall table (25 cubic feet), plus misc. smaller items. All of this equals about 300 cubic feet. Combined with about 750 cubic feet of furniture and this gives you a fully loaded 20-foot container.
---
Important Acronyms and Organizations
As you search for the perfect Shipping Container to meet your needs, you'll run across a lot of unusual lingo and terms that might confuse you. Below is a list of the most common terms, acronyms & organizations you might see:
ISO – International Standardization Organization – An International organization based out of Geneva that works towards synchronizing worldwide technical standards, which includes those governing the construction of shipping containers.
BIC – Bureau International des Containers et du Transport Intermodal – An International organization that links all the various players in the shipping container industry.
Shipped – The world's #1 wholesale supplier of intermodal shipping containers. The site provides a secure platform for transactions, automated delivery pricing, instant checkout, complete buyer protection and has helped increase the efficiency of the entire industry.
NPSA – Is an American based association for the portable storage industry. They are the leading trade association for companies offering secure, portable storage containers, portable or mobile storage trailers, portable or mobile offices, portable or mobile storage units and the industry around it.
CSC – Convention for Safe Containers – Established by the International Maritime Organization (IMO) in 1972 to set 2 goals. The first is to maintain a high level of safety for human life in the transport and handling of containers by providing generally acceptable test procedures and related strength requirements of shipping containers. The second goal s to facilitate the international transport of containers by providing uniform international safety regulations, equally applicable to all modes of surface transport. In this way, proliferation of divergent national safety regulations can be avoided.
ICL – Institute of International Container Lessors – An organization that represents over 90% of container and chassis leasing companies around the world. The IICL sets leasing and repair standards for its members and is generally considered to have the strictest criteria when it comes to leasing, upkeep and repairs. If your container was previously leased, there's a high probability it was part of the IICL.
ACEP – Approved Continuous Examination Program – Much like a continuing education program, these are quality inspection programs put in place by container owners to monitor the condition and maintenance of their containers. As long as a unit is monitored under an ACEP, their periodic CSC re-inspection is not necessary. If a container leaves the program from which it was originally built and maintained (e.g. in the case of a sale), it means that the containers will need to be inspected under CSC guidelines in order to be approved for shipping.
---
BIC-Codes (Ownership Codes)
Like cars, guns, boats, electronics and other important items, shipping containers have a serial number. The ISO 6346 Code (also known as the BIC-Code) is basically a unique serial number for every shipping container. It consists of four characters long ending in either U, J or Z, followed by six numbers and a check digit. It is the standard that's used when a container is used for containerized intermodal freight transport and guarantees that the container is unique. It identifies the owner or principal operator of the container and once entered into the BIC international database permits the tracking of dimensions, type, year of putting into operation, date of control, maintenance records, etc.
---
A Little History
The modern, standardized steel container known today as a Shipping Container is actually a recent invention, in historical terms. The military was experimenting with prototypes during World War 2. But it wasn't until the mid 50's that the Shipping Container as we know it began to make it's stamp on the world's economy. And what a stamp indeed! Malcolm McLean, An ambitious truck-company owner with little experience when it came to shipping, was looking for a way to move goods up and down the East Coast's traffic-choked highways faster and more cheaply. He had the idea to ship his trucks directly up the Eastern Seaboard on ships, rather than driving them up. He went through different permutations before finally settling on a container design custom-built for his company, Pan-Atlantic. It proved to be an extremely efficient way to transport goods.
Around this time, other companies were getting into the game and the result were boxes made from all sorts of material and with a multitude of shapes. As you can imagine, things started to get out of hand. Cranes belonging to Grace Lines couldn't unload containers belonging to Pan-Atlantic. So, the major players in the burgeoning shipping container business got together to settle on a set of standards. Years of debate, overseen by a little-known government agency called the United States Maritime Administration, helped to guide the way. And by 1961 an agreement was reached on a set of standards, many of which are still in use today.
Overall, the shipping container greatly changed the way we shop and work. Reliable, cheap transport led to an explosion in global commerce. That, in turn, had more far-reaching consequences, both good and bad. For example, When the cost of shipping American cotton to China, having it sewn into shirts there, and shipped back to Wal-Marts in the U.S. sank to nearly nothing, the bottom fell out of the American textile industry. Many other industries followed—leading to the ongoing outsourcing boom—as containers made geography nearly irrelevant. American manufacturing—which represented nearly a quarter of U.S. GDP in 1970—makes up just over 10 percent today. Waterfronts that provided jobs for, in some cases, 15% of a cities workforce, simply dried up into literal ghost towns.
At the end of the day, the Shipping Container has had a positive effect on mankind, making our world smaller and economies larger. And now excess or "out-to-pasture" shipping containers can be purchased for almost any use. For a more detailed history, check out this book by Marc Levinson The Box: How the Shipping Container Made the World Smaller and the World Economy Bigger.
---
VIP Buyer Support For All Of Our Customers
If you need assistance before, during or after your purchase, we're here for you. Shipped.com offers 24/7 support options to assist you with anything you need. We're totally committed to supporting our customers, so don't hesitate to contact us anytime.