Great Looking Container Homes from Around the World
Shipping container homes have gained in popularity over the years for a lot good reasons. However, many people that are interested are unsure of the stylistic and aesthetic potential that can be achieved by using shipping containers. Below are some of the latest examples with inspiring photos.
Containers of Hope in Costa Rica
Benjamin Garcia Saxe has built with $ 40,000 an interesting place to live in Costa Rica. This project concentrates more on a communion with nature than actually building. This house is very chic and modern but it only takes a small amount of materials and space to function.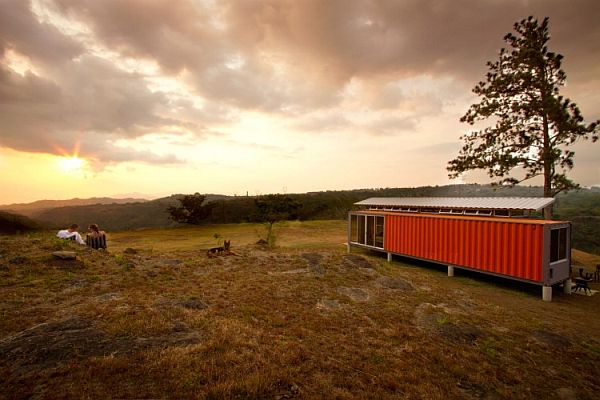 We all tend to build vast spaces that very often are left uninhabited, but this focuses more on what we actually need and don't need.  Let me tell you what we really need: a sunrise and a sunset through those wonderful large windows, we need comfort and we need style. Thanks to modern furniture and quality finishing we can achieve all these within exactly 1,000 square feet.
I would have to say that this is a place for the soul and eyes. An intimate, cozy house with the best view over the surroundings is probably what many of us would want. Well, it is possible to have just that with just two shipping containers.
 


First Shipping Container House in Mojave Desert
Container houses are taken to another level here. If so far we've seen homes made in a less professional manner, Ecotech Design introduces their version of a shipping container house. It is located in the Mojave Desert, it has 2,300 square feet structured into a one bedroom, one-and-a-half bathroom 6 containers residence.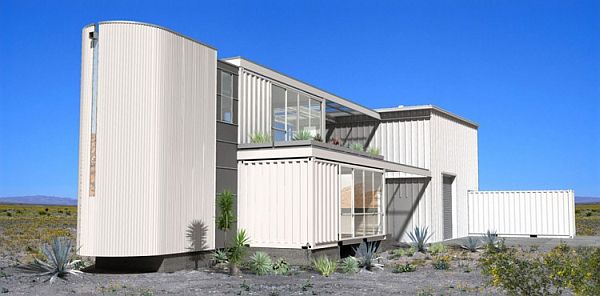 The design speaks for itself, offering for those who are interested more that shelter. This unique design features a modern interior with open space solutions and plenty of natural light and an exterior area that combines shady places with an open space yard.  I have to admit that if nobody said to me that this is made from containers I would had never guessed. It looks like a modern facility built in a sort of environmentally friendly spirit.
This amazing structure combines high-energy efficiency and mass-production modular structures, making it a low-cost, sustainable house system. Looking at the trends today, I'd say that in the near future we'll see more and more of these structures springing up all over the world.


Environmentally Friendly Crossbox House
The container house phenomenon is spreading across the world into new and different regions. These new architects are imposing their design preferences in new ways and this one designed by FranceClément Gillet Architects is a great example.  It's built using environmentally friendly materials as a prefabricated residence. At the base, this successful pre-fab is built from used shipping containers.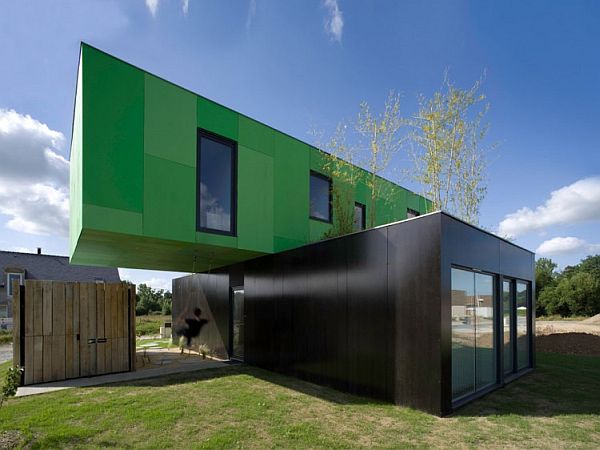 The residence has approximately 1,120 square feet and it's a prototype of a modular, industrial house made from four containers.  The aim of this project is to build low cost architect spec houses focusing at the same time on the environment.  The big success is due to its very simple design with a living area on the ground floor and three bedrooms on the first floor.
The entrance is between the two volumes used also as a carport. The interior is well finished with bright colors and furniture to create the impression of vast space including wooden touches that warm the entire house, making it a great place to live.
Shipping containers are made of CORTEN steel. They have outstanding structural integrity and are excellent building blocks, great for nearly any design. The possibilities are endless. Did you know that the CORTEN steel of an ISO sea going container is 20 times greater than traditionally built housing? Not many homes have the structural integrity to withstand natural disasters, but a home built of shipping containers can withstand the worst mother nature can throw at them.



Are you interested in buying a new or used shipping container at the lowest possible price along with the best delivery terms available? Shipped.com saves you real time and money, enabling you to see instant pricing, including delivery and checkout all online!  See Details…